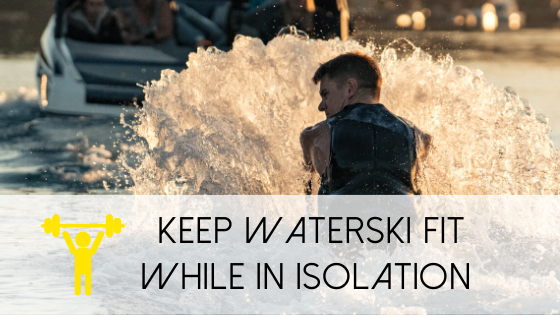 Gyms have closed, recreational activities are limited, as too with numbers of people we can socialise with in person. It is difficult to find an avenue or motivation to stay physically and mentally healthy right now while we are all socially distancing and staying in self-isolation.
Let's look forward to one day soon, stepping off the back of the boat with a ski or board on our feet and a handle in our hands.
Until then, we here are our secret tips to staying waterski & wakeboard strong while in isolation.
KNEE STABILITY
SQUATS: With or without weights (it's up to your ability) targeting the quadriceps, hamstrings, and buttocks

STEP UPS: find a box, steps in your house, a stable bench

BRIDGE: Lay on your back with both knees bent and feet hip-width apart. Target glutes while lifting your hips slow and controlled.
INNER THIGHS
SIDE LUNGES – Keep one leg straight and sit back onto the opposite hip. Weights are not necessary, but again, it is up to your ability!
CORE
SIDE PLANK: Beneficial for a range of muscles groups including the oblique abdominal muscles

WEIGHTED CHOPS: Use hand weights if you have any, or substitute with a milk bottle, canned goods or something with some weight that is easy to hold. This exercise is great for the upper and lower body while improving balance and posture.
​
We look forward to skiing with you again soon, until then, stay safe, stay happy and stay healthy!