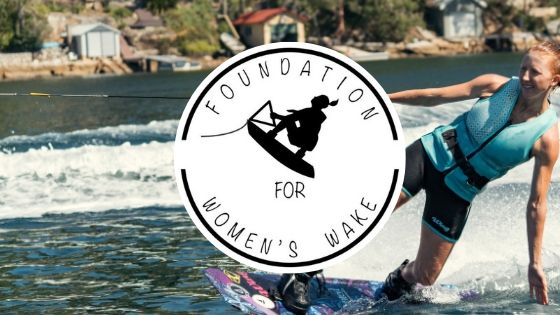 After retiring from professional wakeboarding after over 15 years of competing and leading the way for fellow women's wakeboarders, Amber Wing took on a new challenge, her own non-for-profit Foundation!
The first of its kind in watersport, the Foundation For Women's Wake helps to grow and support for women in wake sports with scholarship programs and mentoring, coaching clinics and mentoring support.
We sat down and had a chat with the ladies of the FFWW to get a better understanding of what they are about!
What is the FFWW?
We are a registered not-for-profit organization striving to provide financial support and scholarships for upcoming champions of the sport and encouraging more women to enter the sport at an amateur level!
With the hope of creating a support network for all women in wake sports, we host coaching clinics, provide mentoring as well as providing financial assistance through scholarship programs. Our goal is to create a ladies' competition with great prize money and exposure for female athletes.
We are honored to have a team of dedicated women who have lived the sport and love it. Helping current and future professional women is our focus.

What are the Ambassador Scholarships?
After our first year of operation, thanks to the generous support of event sponsors and the FWW community, we were able to award two monetary scholarships to two Australian women. Each recipient was awarded $1000 to assist with running their own programs, help with travel or training costs or simply fulfilling their wakeboarding dreams.
The two ladies we chose this year were Lauren Schwarts (SA) as our junior and Symonne Kennedy (WA) for our senior Ambassadors. Both focus on different aspects of wakeboarding, though equally promote the sport in a positive way. Thes two ladies really show the true spirit of the FFWW.

How do they raise money?
From the day the FFWW was dreamt up and a team put together, there was one vision - To put all proceeds from events back into the development of women's wake sports by building more events and providing financial assistance.
To make this a reality, our team doesn't take any payment for their time, this includes weekends/ time spent coaching through our clinics, hours spent discussing and organizing events and future planning.
We have so far worked to gain sponsorships from the watersports industry to help cover costs of events so that we can put as much back into women's wake sports. Often we incur minor costs that are absorbed by each individual board member and our partner company, Elevated Industries.
Entry fees into coaching clinics and sales of merchandise also go directly to helping grow the foundation and achieve our goals.
Who can attend FFWW Events?
They are open to ladies of all ages and skill levels! Complete beginners have attended, as well as upcoming professionals. With coaching by previous World Champion and Queen of Wake, Amber Wing herself and S.A School of Wake coach & Wakeboard S.A President, Daniella Lambert there is no shortage of knowledge!
Where can you find out about upcoming FFWW events?
Head on over to their social media pages or website:
www.foundationforwomenswake.com